Your Legacy
October 3rd, 2010
Skip right to the end.  Don't worry about the beginning or all the in-between stuff of your life.  What do you want to be remembered for in the end?  When all is said and done, what shall your life have been about?
Do you really want to be remembered for your stylish shoe collection, how shapely your eyebrows were, your golf handicap, how many hours you were able to work in a day (day after day)?  Those will, maybe, make for interesting stories…until they've been over told and ultimately forgotten.
I don't know a lot for sure, but what little I know is this.  I want the legacy of my life to lie in the answer to this question:  How well did I treat others–my family, my friends, complete strangers and even my enemies?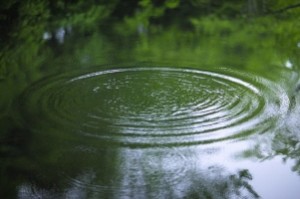 That's it.  Short and sweet.  As a pebble dropped in the pond of humanity, I want to drop in such a way that the ripple effect will touch others for the better.
In the spirit of full disclosure, I will tell you that this short post was inspired by a very good friend of mine, my daughter.  She is amazing.  At a very youthful age, she has figured out that being a good person, being her best self, and treating others well (regardless of how they treat her), is more valuable than getting sucked into whatever today's world would have you think is important for a "successful" life.
I know that the golden rule is that we should treat others as we want to be treated.  But I say treat others (all others, no exceptions) even better than you think you deserve or want to be treated.  Be the bigger, better person always and with everyone.  Now there's a legacy!
Life is good!  Namaste.  –Lori