Plan P: To Be Positively Positive
July 5th, 2009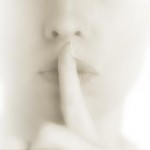 Remember how your mama used to tell you, "If you can't say anything nice, don't say anything at all"?  Well, I'm ready to hold my tongue…literally.  Yes, I just may need to grab it with my index finger and thumb and walk around like that all day long.  No whispering, no mumbling, no nothing.  I just need to shut up.
Since reading Edwene Gaines' The Four Spiritual Laws of Prosperity
, I've been trying very hard to eliminate negative thoughts and comments from my daily conversation.  Ms. Gaines challenges her followers to try a 21-day fast from gossip, criticism, judgment…even sarcasm.
While I have no doubts that cutting out negativity from my thoughts and words will free me up to be more creative and attract more positive people and situations into my life, I'm stuck on the actual follow through.  Sadly so, I can barely make it through a whole day without a slip.
I'm not planning to give up, though.  There's already a much shorter turnaround time between my untamed tongue and my I-can't-believe-I-just-said-that realization.  And I do keep coming up with new strategies to try out (I might be kidding about the actual hold-the-tongue thing).  But it is getting a little frustrating to not be able to make it 24 hours without a slip. How will I ever string together 21 days in a row?
That brings me to plan P: Positively Positive.  Going forward, I will not use the terms Negative, Negativity Diet, Fast From Negativity, Eliminating Negativity, etc.  After all, how will I ever evolve into the powerfully positive woman I desire to be while focusing on the opposite attribute?  I won't.  I'll get exactly what I'm putting out into the universe.
Starting now (listen up Universe), I am a powerfully positive woman who brings joy and peace wherever I go.  That's my mantra and I'm sticking to it.  If you're inclined to disagree or critique, remember what your mama taught you.
Life is good!  Namaste.  –Lori